Activities & Events
The Awareness Campaign for Eradication of Substance Abuse was launched in Shahaji Law College in collaboration with the Office of Commissioner of Police on Saturday 11th March 2023. Police Inspector Mahadev Waghmode and Police Naik Mahesh Gavali addressed the students and also interacted with them. The program was coordinated by Dr. Suchita Suragihalli. Prin. Dr. Praveen Patil and staff members attended the function.
---
A Parents Meeting for Pre Law II was conducted in the College on Saturday 11th February 2023. Parents of more than 90 students participated in the meeting. Issues like attendance, academic performance, health and nutrition issues, and participation in co-curricular and extra-curricular activities etc. were discussed by the parents and teachers. The Principal, Class Teacher, Senior teachers and subject teachers were present for the meeting.
---
Election Literacy Club in collaboration with the Collector Office Kolhapur had organized Voter Registration Camp for the students on Friday 13th January 2023. More than 90 students registered their names for the voters list.
---
Elections for YIN representatives from our college were conducted today. Rajvardhan Nikam and Sakshi Jankar from IV NLC were elected President and Vice-president respectively.
​
---
International Day for Elimination of Violence against Women was commerated in Shahaji Law College on Friday 25th November 2022. The resource person for the program was Dr. Nirupama Sakhdev who spoke on 'The Reason behind Nakoshi – Shodh Astitvacha'. Dr. Vishwanath Magdum, Secretary of the Council of Education also guided the students. A book stall by Akshar Dalan had been organized for easy access of the book Nakoshi Shodh Astitvacha and other books to the students.
---
The Gandhi Vichar Sanskar Pariksha 2022-23 was conducted in the College on Thursday 10th November 2022. Students attempted papers on Hind Swaraj, Constructive Program, Mohan te Mahatma, Hamare Gaon ka Punar Nirman in Hindi, English and Marathi language.
---
One Day Environmental Study Tour at " YASHVANTRAO CHAVAN WILD LIFE SANTUARY", Sagareshwar on 24/09/2022.
Principal Dr R Narayana, Asso. Prof. Dr Mrs S R Rasam, Adv Megha Thombare, Shri Vaibhav Kale and 85 students of Shahaji Law College participated in the said event. Coordinated by Professor Dr M C Sheikh. To know the working and function of Wild Life Act, 1972 is the main objective of this very environmental study tour.
---
A Library Orientation Program for students of Pre Law I was conducted Friday 16th and Monday 19th September 2022. The students were given information regarding Books and their arrangement. They were also informed about use of the internet for Research and Case Study purpose.
---
A Poster Presentation Competition to commomerate International Day of Democracy was conducted in the College on Wednesday 14th September 2022. 30 students in the form of 18 teams participated in the competition. The Competition was Judged by Ms. Neha Wadekar and Shri. Shreyas Mohite from Department of Political Science, Shivaji university.
---
A guest lecture on Lifestyle: Nutrition and Diet, and Health Check up Camp was organized in Shahaji Law College on Monday 12th September 2022 to commomerate the Birth Anniversary of Deshbhakt Ratnappanna Kumbhar and the National Nutrition Week.
Mrs. Nikita Karnawat, Clinical Dietitian at D. Y. Patil Hospital, Kolhapur guided the students regarding the importance of a balanced diet and proper nutrition.
Blood of 122 girl students was collected to check Hemoglobin and anemia during the Health Camp.
---
A special talk by Adv. Kelly Thiirah (Alumni 1999 batch )
Director, Legal counsel, Hardward Clinical Research Institute, USA.
Topic : Legal Education and Law Practice: A Comparision between USA and India.
Thursday 23-06-2022
---
Guest lecture of Hon'ble Amit Tanksali ( Asst. Legal Advisor, RBI ).
Topic: RBI – composition, Management, Function and Grievance Redressal Mechanism. 19-04-2022
---
Teachers-Parents Meeting
A parents meeting for Pre Law II (Aided and Unaided division) was conducted on 02/02/2022 from 8.30am to 10.45 am. 110 Parents attended the meeting.
---
Celebration of Savitribai Phule Jayanti – Monday 3rd January 3, 2022
The 190th Birth Anniversary of Social reformer, Poetess, Krantijyoti Savitribai Jyotirao Phule was celebrated on Monday, 3rd January 2022 at 11.00 am. On this occasion, Prin. Dr. R. Narayana garlanded the photo of Savitribai Phule and expressed his views. Students of Pre-Law II – Ms. Harshada Prolekar and Ms. Anushka Mule and of LL.B. II – Shri. Anil Ghatge spoke to honour the life, work and dedication of this exemplar personality. The students were encouraged to imbibe at least one quality of Savitribai and to work for the downtrodden like she so fearlessly did. Students, Teaching and Administrative Staff attended the program.
---
Environment Study Tour at Dajipur Santuary " on 28/10/2021
---
Moot Court in Vernacular language – 23/12/2020
---
Shahaji law college participation in Open discussion on Election literacy organised by Kolhapur municipal corporation on 4th February 2020.
---
राष्ट्रीय मतदार दिनानिमित्त शहाजी लॉ कॉलेजतर्फे मतदार जागृती  – 25 January, 2020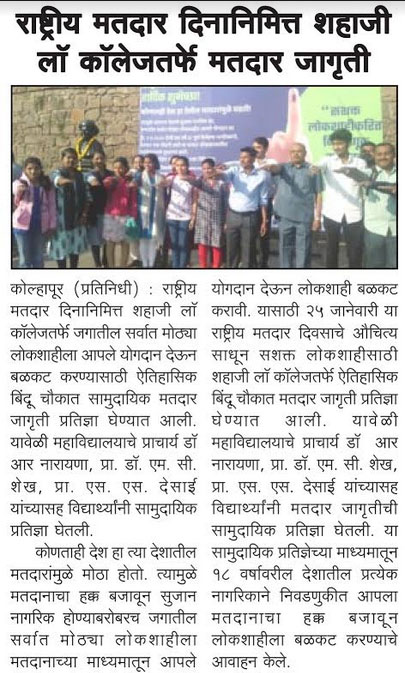 ---
Participation of student researcher team in one day National workshop on Resesrch Methology held at Devchand College Arjunnagar" Coordinated by Asso. Prof.Dr M C Sheikh – 24 January 2020
---
Parents teacher meeting for class Pre law I (2019-2020) held on Saturday 25th January 2020
---
Sr Judge and DLSA Secretary Shri Pankaj Deshpande interacting with students on 'Working and function of DLSA Office' on 18/12/2019.
---
2019-2020
28/08/2019- Guest Lecture :  Adv Chaitanya Kulkarni, Topic : Intellectual Property Rights
15/09/2019- Padmshree Deshbhakta Ratnappa Anna Kumbhar Jayanti – 'Swachhata Abhiyan' at Yalamma        Temple premises at Kolhapur
16/09/2019- Swachhata Ahiyan at Chhatrapati Shahu Terminus, Kolhapur campus
23.09.2019- Guest Lecture : H'ble Senior Judge and Secretary DLSA, Shri. Pankaj Deshpande,                                  Topic : Role of DLSA and Law Students
SLC Internal Moot Court Competition 2018-19
11th and 12 th February 2019
---
Swachha Bharat Campaign organised in association with Chh. Shahu Maharaj Terminus, Kolhapur on 24/09/2018
---
ONE DAY ENVIRONMENTAL STUDY TOUR at Chandoli National Park, Chandoli on 16th April, 2019….Coordinated by Dr M C Sheikh
---
Parents-teachers Meeting of Pre Law I on 15th April 2019
---
FIRST CONVOCATION CEREMONY OF COLLEGE Date 22/03/2019
Chief guest: Hble Padmshree Dr Shivram Bhoje, Ex Director, IGCAR ,Kalpakkam
---
College representation at Lokshahi Pandhravada Celebrations organized by Kolhapur Municipal Corporation on 31st January 2019
---
visit to Apti, Balinga and Kabnoor Gram Panchayat during Gram Sabha of 26th January 2019
---
Pre Law I internship visit to Gram Sabha of Top Gram Panchayat on 15 December 2018.
---
Pre Law I internship visit to
1) Construction Dept.
2) Electricity govt.(which is related to only street lights or govt. Lights) Dept.
3) Marriage Registration Dept.
4) Real Estate (Govt. Estate) Dept. of Kolhapur Municipal Corporation on 13 & 14 December 2018.
---
Parents Meeting for Pre Law II
---
Internship visit of Pre Law II to Avni, kolhapur.
---
Library Orientation for Pre Law I held on Friday 5th October 2018
---
T-SHIRT painting competition held on 14th August 2018.
---
Visit and Donation to School for Blind by students of Shahaji law college
---
Parents-Teachers Meeting of Pre Law I on Saturday 21st April 2018
---
News in Lokamat 23 Feb 2018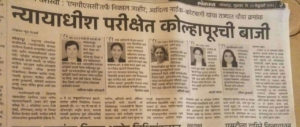 ---
Internship Visit of Pre Law II to Nisarg Mitra, an NGO for environment issues on Thursday 22nd February 2018.
---
Student Bar Association meeting
---
Rangoli competition held in college on 20th January 2018
---
Elocution competition organized by Election Literacy Club on Friday 9th February 2018.
---
Poster Presentation Competition organized by Election Literacy Club on Thursday 8th February 2018.
---
Internal Moot Court Competition 2017-18 held on 30 Jan and 01 Feb. 2018
---
Labour Laws Awareness Programme 29/01/2018
---
Visit of Shahaji Law College students to High Court, Mumbai
---
  'Essay writing Competition to commemorate birth anniversary of Savitribai Phule' held on Friday 5th January 2018.
---
'Celebration of Kranti Jyoti Savitribai Phule Jayanti' 3 Jan 2018
---
Legal services week in association with DALSA
---
Youth Parliament
---
Alumni Meet on Sat 23.09.17
---
Parents-Teachers meeting for Pre Law II on 23.09.17

---
Internship visit of Pre Law II students to the Nature Park of KSBP on 14-09-17
---
Yoga 21-6-2017
---
Self Defence 9-3-2017
---
Dental Health Camp
---
Free Bank Account opening by State Bank of India
---
Drawing Competition
---
Participation of our students in moot court competition at Gujarat
---
Kalavishkar – 23-8-2017 Shahaji Law College, Kolhapur
---
Self Defence
---
Swachta Abhiyan
---
Students as associates with District Legal Services Authority (DLSA), Kolhapur